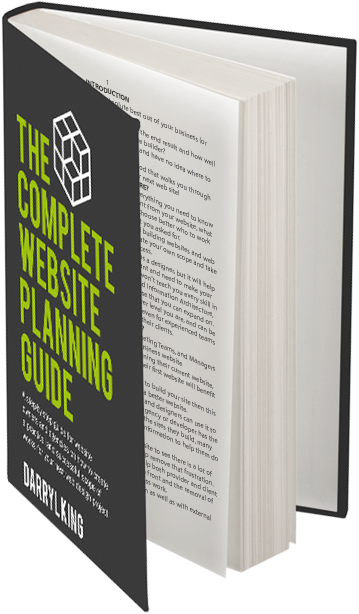 Help you get accurate quotes and project timelines by providing detailed website scopes

Save money in your project by avoiding miscommunication, overruns, and problems before any code is produced.

Free Templates to download and use to help build your plan.

A simple website planning method that walks you through planning, designing and building your next web site.

It won't teach you how to build websites as a designer, but it will help you get the right designer to build the site you want.

Gives Agencies and Developers a framework to charge their clients for scoping their web sites to help build better sites
Building a website can be extremely challenging when you know nothing about web development or code. This book outlines and breaks it all down for you - step-by-step on how to plan, recruit and execute your next website launch. Darryl has written the book in easy to follow language coupled with great checklists and templates that you can print out.
I am a freelancer and this is what i was looking for. Darryl has used his experience in laying out the problems faced by clients and freelancers and also given some templates and methods to follow before starting a new project. I am confident as following the steps covered in this book will help me improve on quality and help me deliver better outcomes. Highly recommended